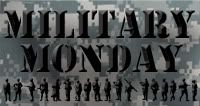 As a health and fitness nut, this week's Military Monday is absolutely one of my favorite topics. Like Cat at 5 Nuts in a Nutshell, I have heard quite a few spouses as well as service members worrying and stressing over passing the PT test, which can rather easily become a major roadblock in the military career, and prevent promotions, and even reenlistment.
My experience in military PT tests is limited to Army through my husband, and Air Force through some personal training clients that I have helped to get into shape and pass the PT test.
Being in a good shape is not important only for safety and surviving in the military or passing the PT but it is also an investment in ourselves in the long run. Fit people tend to tolerate stress better as well as are healthier and happier in general. This is why I have a slightly hard time to understand why people let themselves to get into poor shape, and become couch potatoes. So my first advice to both Service Members and Spouses is to stay in shape, and maintain a healthy lifestyle. With the same note, I don't have a whole lot of understanding for people who try to improve for the PT test, and then slack between the tests.
I talked about this with my husband over the dinner tonight too. His recommendation was to include some extra workout time into a day – for example hitting the gym during the lunch break, or hopping on a bike, or run for a few miles. It's all about consistency. That way the workouts are not even "disturbing" the family time in the evenings.
But if we are not quite there yet …. then the best way to get into (PT) shape is simply have regular weight and cardio training in one's week. Regular gym training 2-3 times a week with very basic workouts such as bench presses, squats, triceps/biceps, push-ups, pull-ups will do the trick for the weight training. Or simply getting hooked to Crossfit – the most awesome workout ever. For cardio, running 4-5 times a week is a very good and simple way to work out. As long as we run enough. If the PT test includes a 2-mile run, you need to be able to run 4 miles at the target pace. Only that way we can push our limits and ace the test.
So what can the spouse do? Encourage, and support – first of all! Participate! Go running with your Trooper, or hit the gym together. Go hiking, biking, skiing. Maintain an active lifestyle. And eat healthy. It's called family business, and being active is a great way for a couple to spend time together. At least I can't think about anything better than long road or mountain bike rides with my husband, or training for a sports event together.
I'd love to hear what you think about Spouses' role in Service Members' physical training – and link up at Cat's Military Monday posting!
***
P.S. If you're completely to new to Military Monday, more information can be found here.
Also, the First Anniversary Giveaway is going until October 29, 2011, so don't forget to sign up by following and commenting this post.